Benthic Software GoldSqall 1.0.104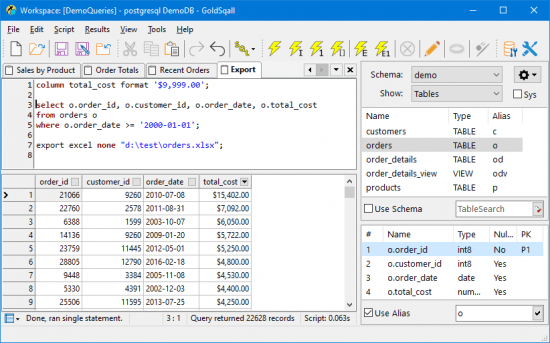 File Size: 12 MB
GoldSqall is an SQL query, editing and exporting tool. GoldSqall can natively connect to Oracle, PostgreSQL, MySQL, Firebird and SQL Server. GoldSqall also allows connecting to any database with OLEDB or ODBC drivers. GoldSqall has an advanced syntax highlighting SQL Editor and formatter, a lightning fast datagrid with sorting, filtering, data formatting and a transposed view mode.
Features:
Native driver support for Oracle, MySQL, PostgreSQL, Firebird and SQLServer.
OLEDB and ODBC support for any database
SQL query and script running including database specific commands, stored procedures, etc.
Bind variable (:bindvar) and prompt variable (&AskMe) support.
Language copy & paste feature for integration with programming tools. C++, PHP, Object Pascal and more.
Support for viewing tables, columns, stored procedures, schemas, etc.
Incredibly fast data grid with support for transposed mode, sorting, custom formatting, filtering and more.
Cell detail window for multi-line or formatted Text.
Image viewer cell detail window with support for Jpg, Gif, Png, Bmp, Tif, MultiPage Tif, etc.
Export data directly to Excel, Calc, CSV, XML, insert statement scripts, and more.
Export directly to Excel files even if Excel is not installed.
Script autorun support and full command-line options
What's New:
Improved the help file with new SSL information for MySQL connections and Alias help content.
Performance improvements using SQLBuilder with very large schemas.
Performance improvements when switching to transposed grid mode.
Performance improvements for autosizing.
Performance improvement to brace highlighting on huge scripts or scripts with thousands of braces.
Fixed several issues related to aliases.
Fixed a key shortcut issue on keyboards that require a control key combo to type '*'
Fixed an index error showing a scratch window of a transposed grid under certain conditions.
Fixed several issues with importing login list files from BenthicSQALL and Golden.
HOMEPAGE
https://www.benthicsoftware.com/goldsqall.html
DOWNLOAD
(Buy premium account for maximum speed and resuming ability)